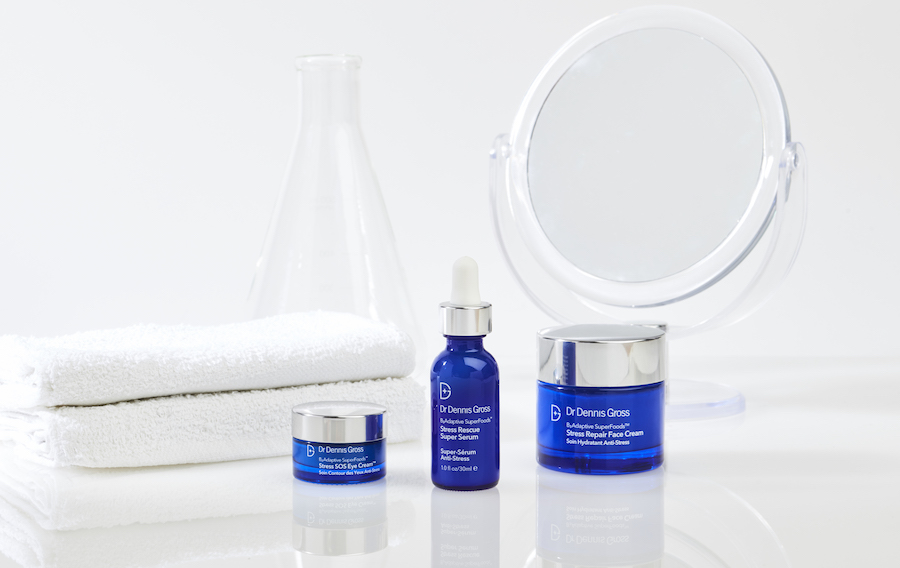 RESERVE YOUR SPOT TODAY!
March 30, 2020 12-8pm $30
*Reservation fee is applied as a credit to product purchase that day. Offer valid March 30, 2020 only*
Join us for a hair conditioning and blowout event with Dr. Gross products at Milagro Spa! Book your mini facial with one of our participating estheticians for Monday, March 30th 2020, 2019 between 12pm and 8pm.
FACT: When we're stressed, the body de-prioritizes skin, starving it of oxygen, vital nutrients, and blood flow.
The five signs of stress-induced aging include worry lines, tired eyes or under-eye bags, red patches or blotchy skin, dry skin, dull skin, blemishes and acne flareups. Dr. Gross has developed a line to combat all of these pesky skin issues with his new Stress Rescue & Repair line, complete with B3Adaptive SuperFoods Complex, which includes:
Niacinamide (B3) helps to retain moisture, to repair fine lines, and wrinkles, regulate oil production and reduce redness.
14 Superfoods help to heal and repair skin while supplying it with antioxidants, essential fatty acids, and vitamins
11 Adaptogens help the body cope with stress and restore its balance
The Stress Rescue & Repair line includes Super Serum, Face Cream, and Eye Cream.
Ask your esthetician about Dr. Gross's new line during your next service at Milagro Spa!
Find out more and take the Stress Quiz at drdennisgross.com